Becoming a Thinking School​
Whether you are seeking accreditation as a Thinking School or not, we have developed a model of working with schools, online and/or in-school, designed to support them in successfully embedding a sustainable, whole school approach to metacognition and the development of independent learners.
The model is based around a 'Core Approach' that puts schools in a position to seek and be confident in gaining Thinking School accreditation from The University of Exeter. 
The Core Approach is aimed at schools who don't have a history in the explicit development of metacognition in their learners. It consists of the equivalent of five full training days with the whole staff and the support of one of our consultants working with a school 'Drive Team' to embed the approach across the whole school. The training can be delivered both online and/or on-site with equal effectiveness.
For schools who are already explicitly developing areas of metacognition, we design bespoke programmes, based on elements of the Core Approach. Given our belief in the impact of a whole school approach (where there is a common vision, goals, language and measure of progress) all bespoke programmes are required to incorporate a session on working with a school's 'drive team' as agents of change.
The following graphic gives an outline of our Core Approach.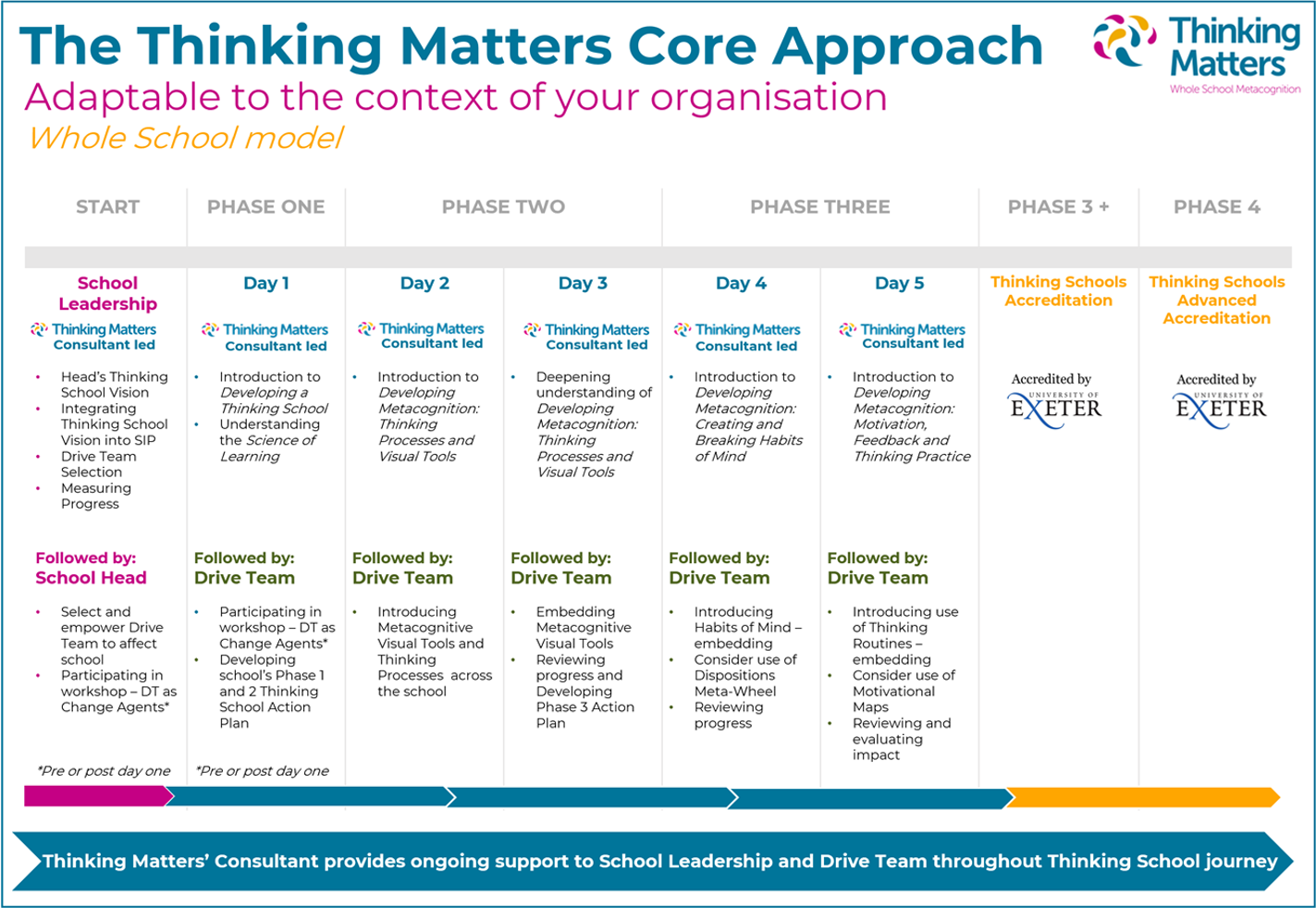 Online Delivery
The TM core training model includes a period of consultancy support for school leadership, followed by up to five training days, which are generally spread across a 2-3 year period. These traditionally have been facilitated face-to-face with either Drive Teams or whole staff of schools, or with a combination of these approaches.
In response to the COVID pandemic and the changing CPD needs of schools, this training model has now been adapted for online delivery and can be facilitated either fully online or using a blended approach incorporating both face-to-face and online training. This approach is best suited for facilitation with a Drive Team, although can also be facilitated with whole staff within small schools.  
General Overview
Start
Initial Consultation:

 Our work starts with time spent between a Thinking Matters adviser and the School Head and Senior Leadership team. We explore your school's context and the purpose of your interest in adopting the change to a whole school approach to the teaching of thinking. We provide input to your plan to bring about that change, advise on selecting the right drive team to implement your strategy, how best to evaluate its effect and how the approach supports government inspection requirements.
Phase One
Day 1 – Developing as a Thinking School:

 We explore with your whole staff why 'Thinking Matters', the Thinking Matters Big Picture, The Science of Learning and how to use it in the classroom for maximum impact.
Phase Two
Day 2 – Developing Metacognition: Thinking Processes and Visual Tools:

 How to use Metacognitive Visual Tools in developing thinking processes and 'higher order' thinking across the whole-school.
Day 3 – Deepening Understanding: Developing Metacognition: Thinking Processes and Visual Tools:

 Whole staff mastery in the use of metacognitive visual tools across all subjects.
Phase Three
Day 4 – Developing Metacognition: Creating and Breaking Habits of Mind

: Whole school staff training on intelligent learning behaviours and making and breaking Habits of Mind.
Day 5 – Developing Metacognition: Motivation, Feedback and Thinking Routines:

 Whole school staff training on understanding motivaiton to engage learners, the value of feedback and
implementing Thinking Routines to develop thinking.
Phase Three+
Thinking School Accreditation:

 For those that seek accreditation this is carried out independently from Thinking Matters with the University of Exeter.
Phase Four
Advanced Thinking School Accreditation: For those that seek advanced  accreditation this is carried out independently from Thinking Matters with the University of Exeter.
Throughout
Ongoing Support

: Throughout the process of becoming a Thinking School we work with your leadership, drive team and whole school staff (in school or online) by providing support on implementing and sustaining the appropriate change process, evaluating its effects and offering training expertise on the thinking tools, behaviours and pedagogy that underpin the Thinking Matters approach.
Contact us now to find out more, arrange a visit to an existing Thinking School and talk to one of our experienced Consultants to see how this approach could work for your school.