Professional Development for School Groups
We work with a wide range of school groups including Multi Academy Trusts, federations and local clusters. Sometimes the professional development that groups seek from us is only a single element of our 'Temple Menu', sometimes it is to offer individual teachers the opportunity to participate in our Cognitive Coach Course. Typically however, our work with school groups is based on a 'trainer of trainers' model designed to embed a common pedagogical approach to developing metacognitive, self-regulating learners across the whole group.
School Group 'Trainer of Trainers' Model
The School Group Trainer of Trainers model involves one of our 'master' trainers working with members from your central Teaching and Learning team as well as a small number of staff from each school in your organisation and training them to disseminate and embed the approach across all the schools in your group. The Thinking Matters 'master' trainer not only provides this central training but can also support each individual school in the implementation process should they desire it. This approach helps to develop in-group expertise allowing school groups to train any new school joining the group themselves. 

Prior to the commencement of the programme, initial consultation with the leadership team is important. Through this consultation, the bespoke structure and timing of the model is negotiated at an individual level, considering important factors such as the size of the organisation and existing experience with the 'Thinking Schools' approach. Guidance and support is provided to aid in the selection of the team who will be trained to carry out the role as Thinking School Trainers.
By following this implementation process, schools will be well-positioned should they want to achieve formal accreditation as a 'Thinking School' with the University of Exeter. (ThinkingSchools@Exeter).
A Typical School Group Training Plan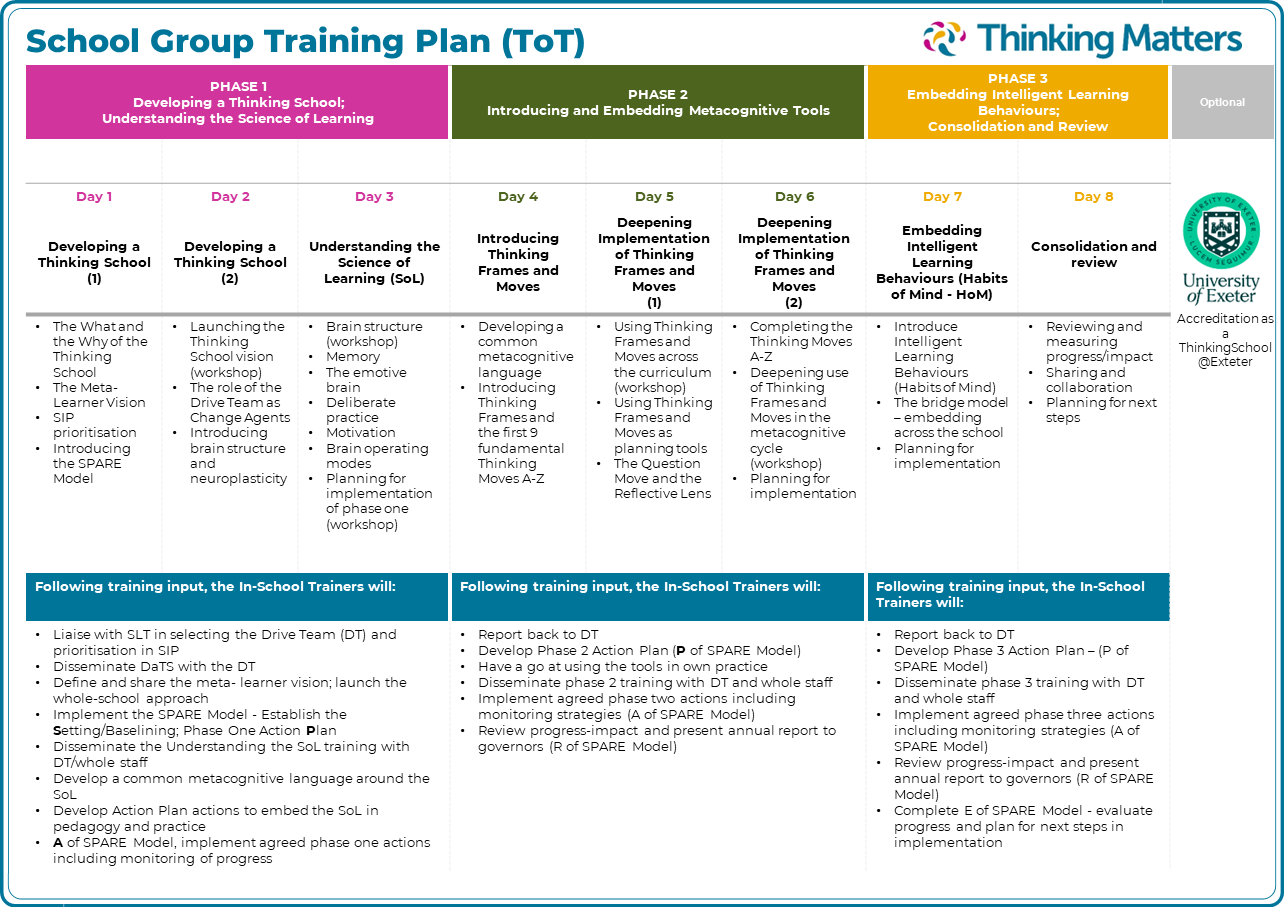 Contact Us
Contact us to design a plan that's right for your school group