Impact of Thinking Schools
Thinking Schools that we have worked with show outstanding outcomes. Pupil progress is 10 months higher than at equivalent schools and grade attainment is subsequently better. At Thinking Schools disadvantaged learners perform above national averages and inspectorate judgements improve – an effective use of pupil premium. Pupil attendance, teacher engagement, retention and recruitment can also be shown to benefit.
Academic Progress and Attainment
Recent research by the University of Exeter on the attainment and progress in Thinking Schools has shown the following: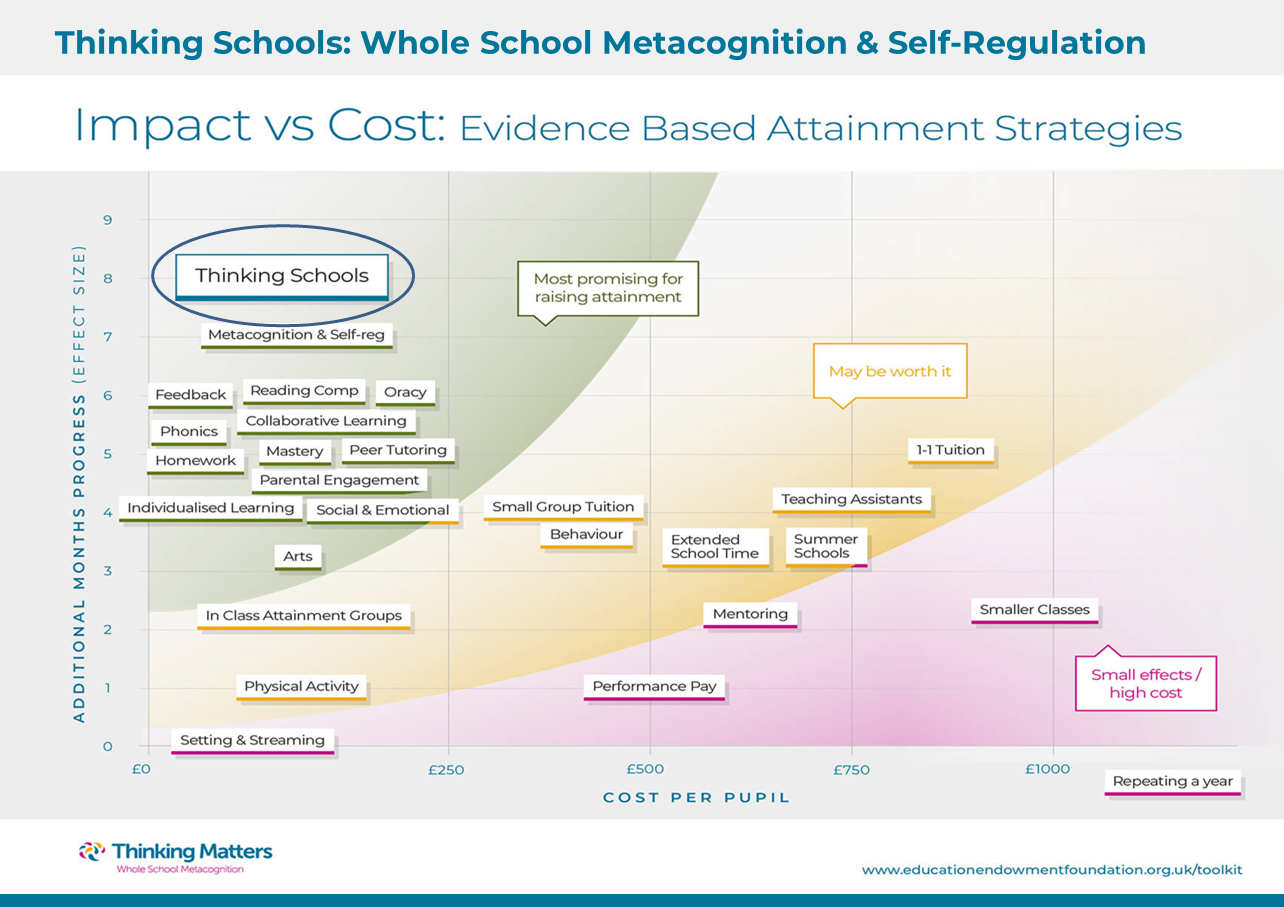 Government Inspection Benefits
The following animation illustrates the impact of being a Thinking School on progress and attainment.
Wider Benefits for Leaders, Teachers and Pupils
Report on the Evaluation of the Impact of the Thinking School 2012
A report carried out by Thinking Schools International and the University of Exeter evaluates the impact of the Thinking School Approach.
Since 2005, fifty five schools in the UK have gained 'Thinking School' accreditation from the University of Exeter by adopting a whole school approach to the teaching of thinking, embedding thinking in the heart of the school and its curriculum. A further hundred plus schools in the UK have joined the Thinking Schools network, often facilitated and trained by consultants from Thinking Schools International. In most cases, the journey to accreditation has taken at least three years to achieve. In September 2012, the University of Exeter and Thinking Schools International jointly funded a survey to evaluate the impact of the 'Thinking School' approach, as adopted by these 'Thinking Schools'. This is a preliminary survey, identifying areas for further research and evaluation. 
A Summary Report of the Regio Comenius funded 'Developing a Thinking School'
Developing a Thinking School: Norway to Northern Ireland' Project and the NEELB Creating a Thinking School Pilot Project
A two-year Regio Comenius project, led by the North Eastern Education and Library Board's Curriculum Advisory and Support Service (NEELB) and Oslo Education Authority (UDE), focused on shared exploration of the concept of a Thinking School. The project involved Kestrel Consultancy (previously the UK arm of TSI/Thinking Matters) and University of Oslo, as external partners, and also included participation by staff of six Northern Irish primary schools and four Norwegian schools. The project was completed at the end of 2012 and final report for the project was submitted in June 2013.