East Belfast Thinking Schools Collaboration Project
Written by Lorna Gardiner, TM Consultant and Project Lead

Over the last 12 months, Thinking Matters designed and facilitated a bespoke online programme to meet the needs of a group of primary schools in East Belfast. Utilising funding provided by the Education Authority for collaborative professional learning, seven schools participated in this year-long Collaboration Project which provided An Introduction to Whole School Metacognition and Visual Tools.
Process



The schools involved were:
Dundela Infants' School
Euston Street Primary School
Knocknagoney Primary School
Michell House School
Nettlefield Primary School
Orangefield Primary School
Strandtown Primary School
St Joseph's Primary School, Holland Drive
Each school identified two experienced teachers who were trained as Thinking Matters (TM) in-school trainers. There was complete flexibility at the discretion of the participating schools for their in-school trainers to then disseminate the training content at a time and using a mode that suited within their individual school contexts.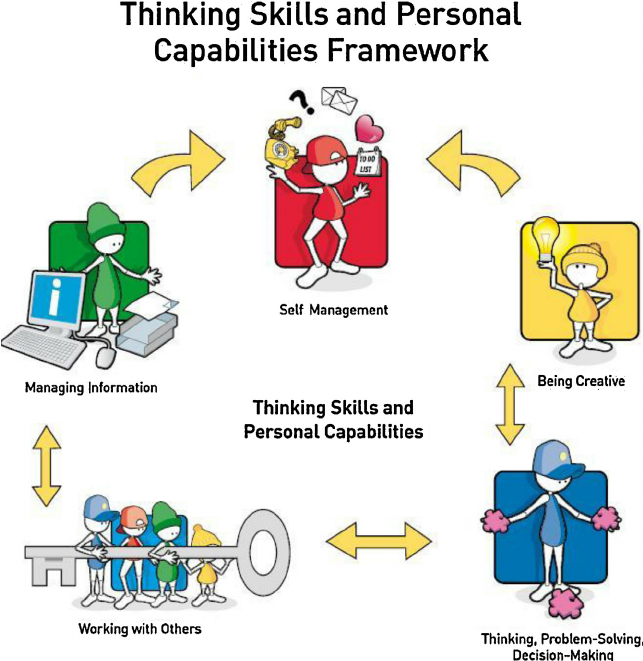 Northern Ireland Curriculum's Thinking Skills and Personal Capabilities Framework
The project commenced with an initial online meeting with the participating school Principals to provide an introduction and to share key information for school leadership regarding the programme and implications for implementation. This included advice on the establishment of a 'Drive Team' to lead the implementation process within each school. In addition to making connections with the Thinking Matters Big Picture and sources such as the Education Endowment Foundation, links were made with the Northern Ireland Curriculum's Thinking Skills and Personal Capabilities Framework[1] and with relevant indicators within the Education and Training Inspectorate's Inspection and Self-Evaluation Framework[2].
All resources required for the training and for dissemination within each school were provided digitally. The project also included access to ongoing consultancy guidance for school leadership and for the training team throughout the implementation process. Three full days of online Training for Trainers were facilitated using Zoom, with opportunity between each session for participants to complete some follow up tasks and activities, for further reading and reflection. Some additional optional online meetings were also provided, with focus areas such as, advice on action planning for implementation, monitoring strategies and a final workshop sharing ideas for using Thinking Frames in Nursery and Foundation Stage classes.
Evaluation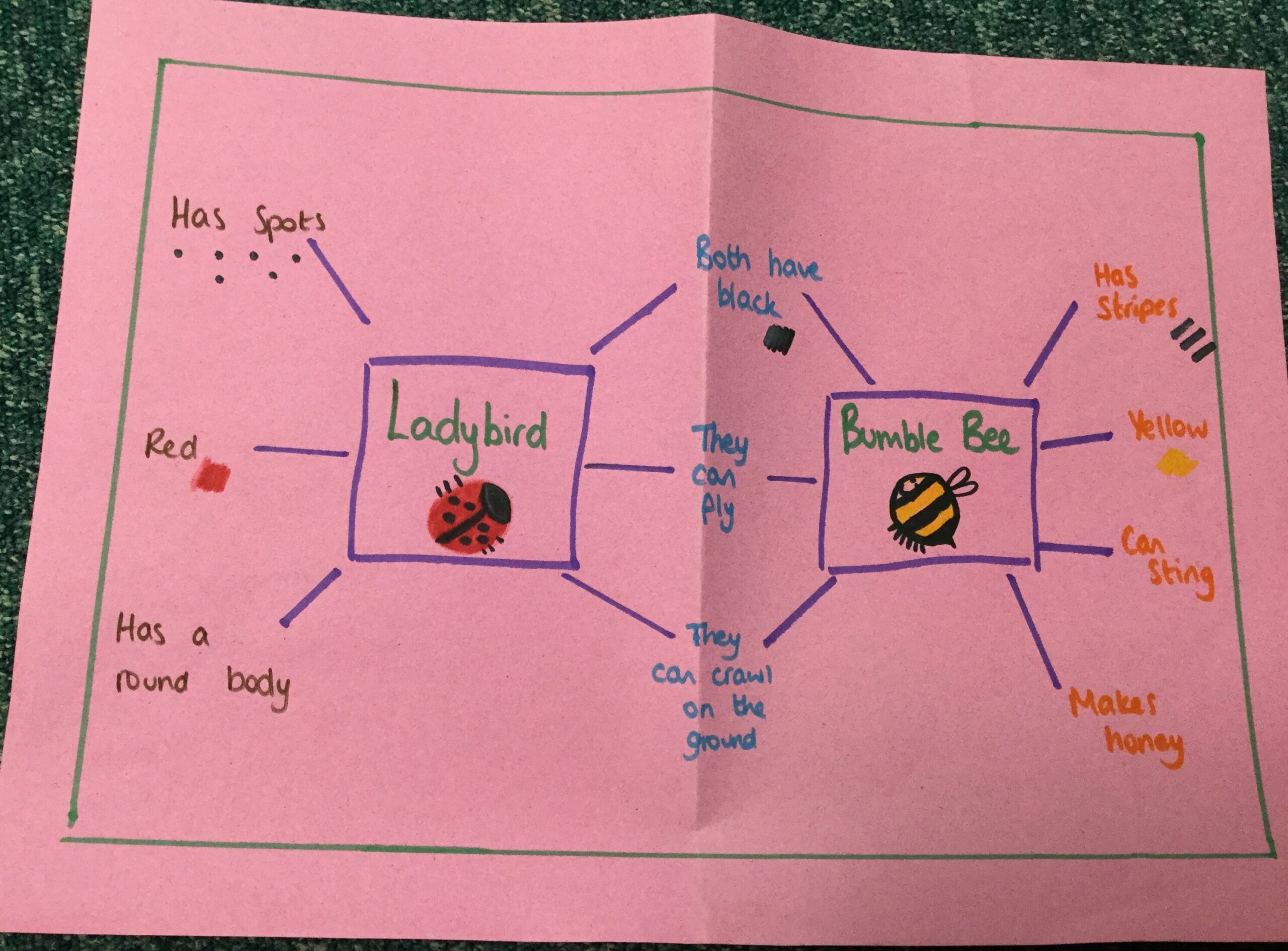 Sharing ideas using Thinking Frames in Nursery and Foundation stage
The end of project evaluation was very positive, with 100% of respondents stating that they agreed/strongly agreed that they had enjoyed the course, that materials provided were of high quality and that communication and practical aspects were efficient. All respondents also agreed that the project had helped improve their understanding of what a Thinking School is and had equipped them with metacognitive tools to use in their own practice – almost all indicating that they had already introduced these.
It was very encouraging to see the evidence of how the metacognitive tools and strategies have been utilised in the participants' own practice. This ranged from some 'experimentation' with Thinking Frames to 'implementation of all Thinking Frames in our classroom practice' and also included some specific examples such as 'use of a series of Thinking Frames to encourage a deeper sense of topic work'. Several participants also reported using Bloom's taxonomy to make thinking more explicit and to support effective questioning, particularly in the Literacy context.
Whilst there was some variability in relation to how each school had been able to disseminate the approach within their schools and with the wider staff teams, all schools had taken positive actions, or planned to. Some schools reported that they had dissemintated all, or most of, the training they had experienced within their own schools, others reported that this has been prioritised for the coming academic year.
Conclusion
In the introduction to the Department of Education's 'Learning Leaders: A Strategy for Teacher Professional Learning''[3] it states that:
"The pace at which the world is changing challenges children and young people to develop increasingly complex knowledge and skills… Teachers too face a world which can be simultaneously creative, complex and challenging. Nevertheless, it is accepted globally that 'the quality of teaching is the most crucial 'in-school' factor in raising the level of pupils' achievement and furthering their educational progress'. Essentially, a school is only as good or as great as its teachers."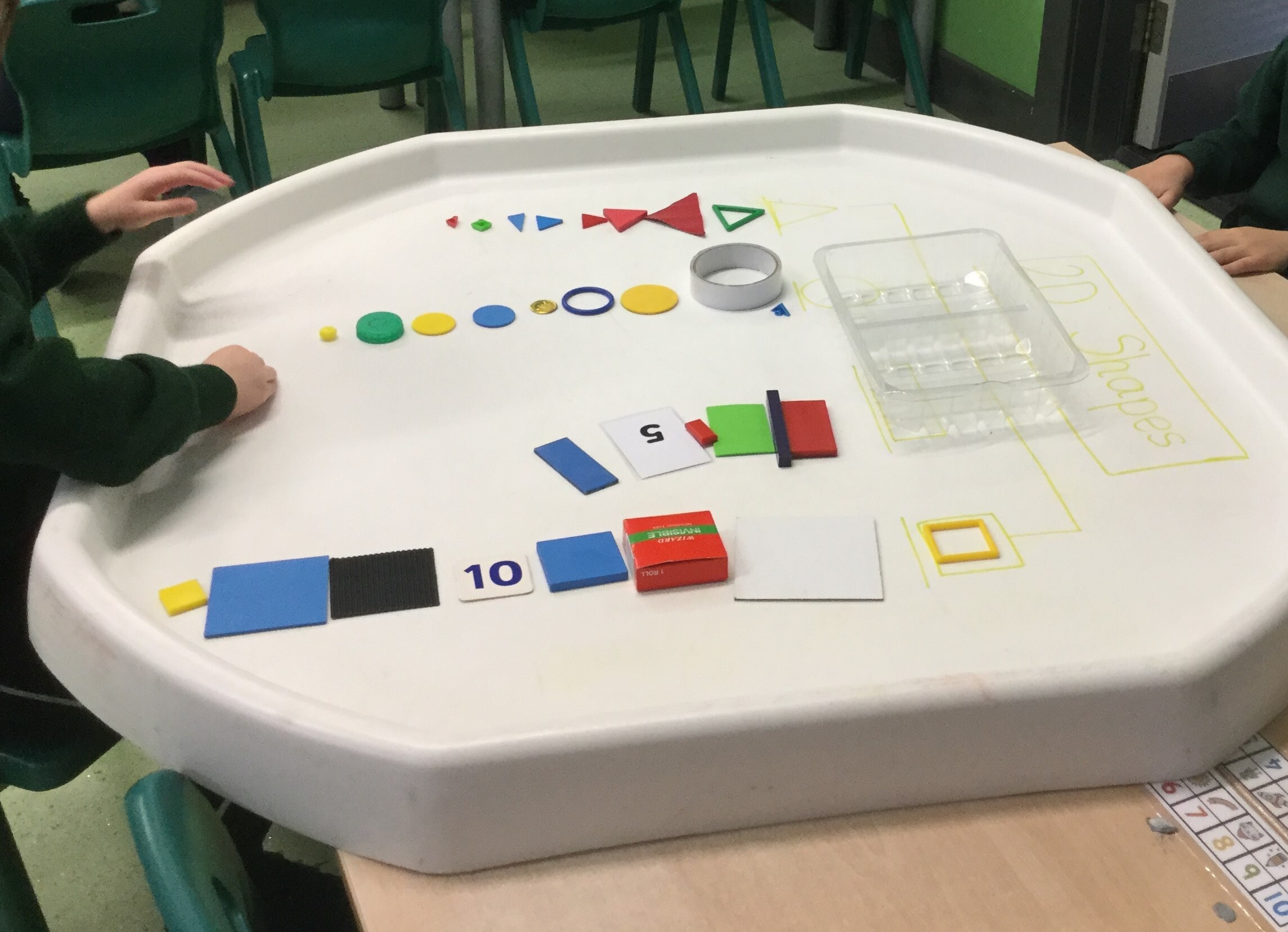 P1 Categorising Shape
Participation in this project has sought to support the continued professional development of the teachers involved in being 'great teachers' and also to support the schools in further building their culture as Thinking Schools.  In these Thinking Schools their pupils will be equipped with the skills and dispositions needed to become independent 'meta-learners' and to face the challenges and uncertainties of the future.
Given the backdrop of the continued impact of the Covid pandemic during the period of the project's life, significant credit is due to both the participants involved and also to school leadership for their commitment to fully engage with the project, despite continued challenges and disruption within schools. From the TM Consultant's perspective, it has been a genuine pleasure to work with the schools involved and with such an enthusiastic and professional group of 'great teachers' and to share the Thinking Matters vision with them.
References:
[1] https://ccea.org.uk/learning-resources/thinking-skills-personal-capabilities
[2] https://www.etini.gov.uk/publications/inspection-and-self-evaluation-framework-isef-effective-practice-and-self-evaluation-0
[3] https://www.education-ni.gov.uk/sites/default/files/publications/de/strategy-document-english.pdf