Lithuanian Kindergarten embrace Thinking Schools
In Lithuania, we first heard about Thinking Schools in 2015. Richard Cummins together with Thinking Matters partner, Thinking Organisations, introduced the mission, philosophy and other main points at the event "Mokykla be sienų 2015" (trans. School with no walls 2015) which was held in Vilnius at the Lithuanian Exhibition and Congress Centre Litexpo.
A few Lithuanian schools and kindergartens were interested in the idea of the Thinking School approach and the possibilities of implementing it, so they started to dig deeper into the philosophy, history, as well as the culture.  
One of the educational institutions that decided to adopt it was kindergarten and preschool "Žemyna".  After discussing it with the community, the school leadership decided to create a learning environment based on the Thinking School approach, whilst at the same time maintaining their own program "Augu žaisdamas, kurdamas, mąstydamas" (trans. "I grow up by playing, creating, thinking").

The Lithuanian educational system faced many challenges at the time. One of them was developing thinking skills and children's abilities. The main questions raised by the Lithuanian education community were:
–  Why is it important to learn about thinking?
–  What thinking skills and abilities should be taught?
–  Do Lithuanian general education programs have preconditions for developing students thinking abilities?
–  How are the achievements of Lithuanian pupils changing?
–  Do teachers' approaches promote students' thinking skills and abilities development?
–  How and by what means should students' thinking abilities improve?
Seeking to develop our students' thinking in a consistent manner, our school faculty started by providing training to the school community and by changing their own ways of thinking.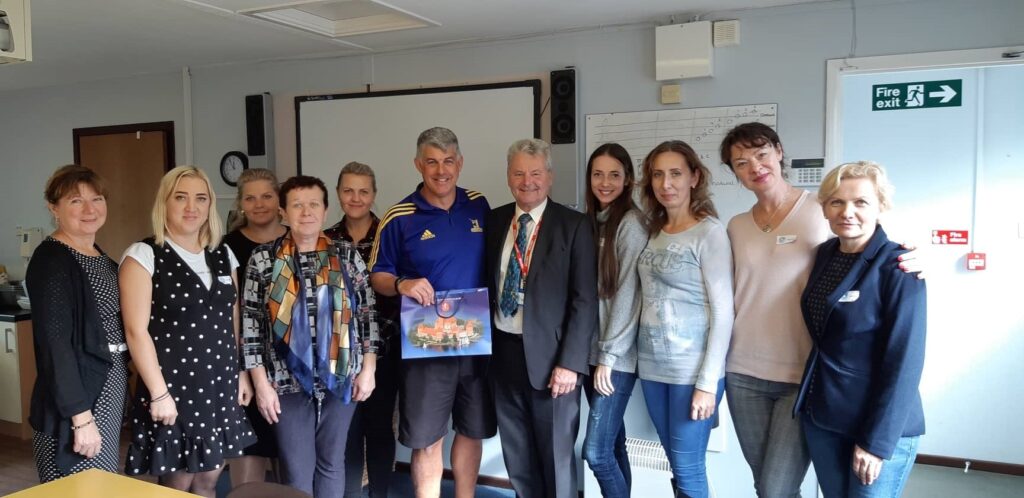 In January 2016, we signed a cooperation agreement with Thinking Matters partner Thinking Organisations, which provides training on how to implement a culture of thinking in schools and organizations. Each year we choose a training cycle that we want to learn and use in our work.  We started with the most interesting set of visual tools – Thinking Maps. We have been using them in our educational process for four years now, and every year we see improvements in the teachers and students themselves, how it helps in making the educational process more purposeful and high-quality, and how it makes it more visible and understandable.
The next training cycle we chose is Habits of Mind. "Žemyna" community identified the most pressing behavioural problems of pupils and set key goals for behavioural development, focusing on four values: Persisting, Managing Impulsivity, Thinking interdependently, Questioning and problem posing. We have noticed that the development of behavioural habits has a direct impact on the quality of the educational process: students listen more closely, concentrate, adhere to agreements. There has also been an increase of educational situations where children can collaborate, share information, and ask more diverse and complex questions.
Our teachers are motivated to continue creating a Thinking School not only by trainings, but also by visiting UK Schools. In collaboration with Thinking Matters and Thinking Organisations, around 90% of our teachers and special needs therapist have visited various Thinking Schools in the UK: Wellington Primary School, Westbrook Primary School, Stanley Park Infants' School, St Francis de Sales Catholic Infant and Junior School, Edgware Primary School, Oaklands Junior School, Binfield Primary School, Whiteheath Infants School, St. James's Catholic Primary School, East Sheen Primary School.
Visits to these schools were very helpful because we were able to see:
how visual tools used to stimulate children to think actually work;
how the school environment is created;
how the development of pupils' behavioral habits is changing the whole school culture;
how everyone in the community collaborates;
how students are motivated;
how pupils are assessed and assess themselves.
The most surprising things we saw at UK Thinking Schools were absence of classroom noise, excellent pupil collaboration skills (and frequency of using them), active children who are not afraid to express their opinions and make mistakes, independence, responsibility, differentiation of tasks according to each child's ability level, teacher teamwork on planning lessons, consistent work with children with special needs. In some schools, we saw how well children are able to present their exercise books and represent the whole school or classroom.
Another thing that surprised us was the consistent, clear, timely and accurate assessment of children by educators during the educational process. Such assessment provides teachers comprehensive information on emerging educational gaps and helps to see individual potential and progress of each child.
Summarizing and reflecting on the Thinking School visits, we came to the conclusion that it is important to be guided by our chosen values, our common understanding, to think about our thinking, not to be afraid of change and making mistakes, involve all community members in looking for problem resolution and to welcome new things with a perspective of wonder and awe.
Article written by Ramutė Žemaitienė
"Žemyna" Kindergarten, Vilnius
You can find out more about Thinking Matters' partnership with Thinking Organisations in Lithuania here.
If you would like to work in partnership with Thinking Matters, see details about our licensing agreement.