I want to build my expertise to help my students develop their metacognition and self regulation
Thinking Matters Cognitive Coach Course
Different to most on-line CPD, the Thinking Matters 'Cognitive Coach' Course is a live online, interactive and expert-led course designed to develop individual teacher pedagogy with practical, effective strategies that enhance metacognition and self-regulation in learners.
I want to know more about metacognition and self regulation
Our Flagship Annual Conference
17 Jun 2024, Marylebone, London
The 'Festival of Metacognition', provides the best insights into developing metacognition and self regulated learning, all in one place. It offers the invaluable opportunity to explore the latest and best practice in successfully developing metacognition in your school and enables you to hear from experts, talk to leaders and teachers from Thinking Schools and share experiences regarding any area of metacognition.

A global community of innovative and progressive schools and teachers of metacognition. The Thinking Schools Network (TSN) is a global community of innovative, progressive schools whose leaders seek to create world-class, metacognitive education environments for their pupils by investing in the skills development of their staff. Its members are both state and independent, mainstream and special schools and serve pupils of all ages.
Find your regional Metacognition Meet
Bringing together in one place those with a shared passion for developing metacognitive, self-regulating learners in one place
Become a member of the Thinking Schools Network
The Thinking Schools Network (TSN) is a member driven organisation and facilitates the sharing of best practice in developing metacognitive learners. Discover the benefits of membership:
Schools in the Network:
Seek to transform the life chances of their pupils beyond academic grade attainment. They use scientific evidence to inform their teaching practice and as the basis for future proofing their pupils.
Subsequently, schools in the TSN take an explicit, whole school, cognitive approach to educating.
All staff of schools in the TSN consciously seek to develop not only their own, but their pupils' cognitive capabilities and intelligent learning behaviours. Their aim is to develop independent, metacognitive learners so that they know how to optimise their own potential and have the tools to determine their own futures.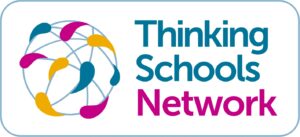 Discover the benefits as a member of the TSN